My Characters
Thank you for taking interest in learning about my Original Characters! This is the page for them! I hope to have this page to be a more comprehensive place detailing the ins and outs of each of my characters and fursuit costumes, but it is still a work in progress! I appreciate your patience! For now, I will be linking to their various art galleries so you can get a feel for them that way, until I get the chance to write more about them.
Matrices
Matrices a happy waggy doggy, she is the cute little grey dog that you have been seeing around Matrices.net! Her personality is silly, helpful, supportive, excited, doglike, and friendly. Matrices is my 'me' character, she represents me in my drawings and online. She has been my fursona character since 1999.
My current active fursuit of Matrices is made by Yoshinomi. There have been previous fursuits for this character that are made by me, they are no longer active.
Meet Matrices Matrices' Art Gallery Matrices' Fursuit Photo Gallery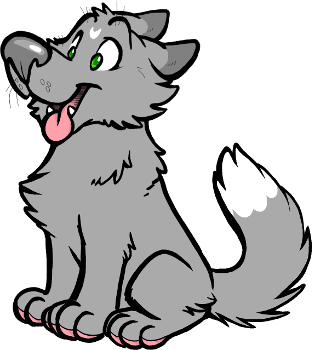 Mukilteo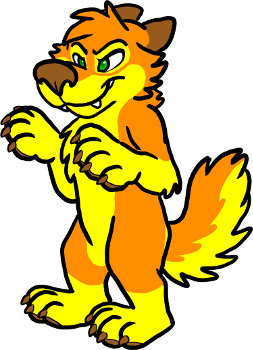 My oldest furry character, Mukilteo is an orange and yellow dog creature. He's a lot like the mean older brother of the bunch, the sort that is terrible no good and bad. Except he HAS to be good because otherwise he gets the shock! zzZap! His current efforts are spent fighting for Couch Rights in the name of his political movement "Dog Party" ...because bad dogs have no rights, so they have to fight extra hard!
My fursuit for Mukilteo is made by Made Fur You.
Meet Mukilteo Mukilteo's Art Gallery Mukilteo's Fursuit Photo Gallery
Bonk
He is a cute and chubby critter. Sorta dog sorta monster, he's not sure what he is either and that's OK. He is what he is and he is confident and happy about it. Bonk is my newest character.
My fursuit for Bonk has his head made by Battitude, the rest built by me.
Chelan
Chelan is a sassy coyote explorer with an affinity for selfies. She is an opportunistic trickster and pretty sneaky when the surroundings present the chance. She also has a bold and sassy streak. All good traits to be proud of, according to her. She is the character currently featured on the homepage of Matrices.net.
My fursuit for Chelan was built by me, on a resin base by Beetlecat Originals, with teeth and tongue by Crystumes.
Meet Chelan Chelan's Art Gallery Chelan's Fursuit Photo Gallery
Beef Jerky
Ultra dopey husky and friend of all, Beef Jerky is an Alaskan Husky (the mutt of huskies, not whole Siberian but definitely a Husky). Goofy, excitable, doglike, playful, will-get-underfoot-somehow. Simultaneously interested in everything, while also not. Friends include stuffed animals, inanimate objects, and you.
My fursuit for Beef Jerky was built by me. A new version is currently under construction.
Meet Beef Jerky Beef Jerky's Fursuit Photo Gallery
© Sara Howard 2016.