Refurbishing and Tailoring
I am currently only taking local appointments for refurbishing and tailoring work at this time. While I do my best to accomodate everyone, appointments are only available when it is mutually convenient. Please be aware there are times where I may need to work through paid work before I can take on additional clients or new projects from existing clients. Ask for availibility!
Should I choose to accept a local appointment with you in my home studio, pricing is based on an hourly rate that will be discussed privately with you based on your needs. I break it down into 3 price tiers:
Consultation -- This is where techniques are demonstrated and/or taught to you, such as maintenance or cleaning.
Body Work -- This includes work on bodies, paws, or tails.
Head Work -- This is the most highly specialized and encompasses anything to do with the fursuit head.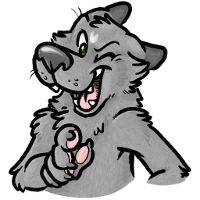 Materials costs are separate, if applicable. Should you require an appointment for a project that needs rushed, or scheduled at a time where it is not convenient for me, higher rates will apply.
I ask that you be respectful when joining me, it is a "safe for work" environment. I do my best to perform services as you wait if it is a quick fix, but there are times where it is more ideal to leave your project and pick it up again once I complete the work. Surprise guests are not always conductive to a professional atmosphere, so please ask before bringing a friend. I also should mention I have one friendly dog that shares my work space, please pet him gently and only when he is interested in your attention (I urge that you do not try to wrestle or initiate rough play, he is an older dog). Thank you!
I am not accepting mail-in tailoring or refurbishing at this time. Thank you for your interest!
This page will have more information on what I offer once I am ready to open for new mail-in clients! I appreciate you thinking of me for your refurbishing or tailoring project, and hope you keep me in mind for the future!
© Sara Howard 2016.